Jezel Art News
Welcome to my blog space for the latest update in my art world. But first of all, I would like to take this occasion to thank all of you for your kind support, your encouragements, for coming to see my work at art markets, at fairs and for buying my art. It means a lot to me. I am very proud to say that with the new look of my website, sees the launch of my online shop. Some of my 'small-art' and 'flower power' mini art are available. And as of now, I am proposing a range of affordable small arty gifts for all. This range will be developed moving foward. If you have any questions regarding my goods  or delivery options, please do not hesitate to contact via the contact page.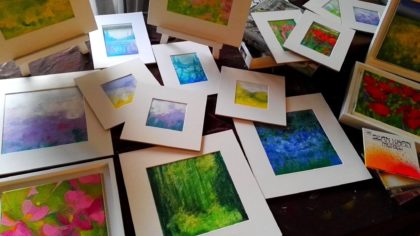 In addition, I am continually working hard to push myself beyond my comfort zone and I am currently working on some new works that I plan to exhibit at the next SIAC Fair and at The Contemporary Art Fair, Newbury, UK in 2019, so stay tuned for these updates.
Click here on this link to see more of my work.