Jezel Art Interview by Lisa Gray | Apr 25, 2014 |
I am a British Artist, born in London and living in Paris. I am of Caribe Indian, French and African descendant. My multi-cultural heritage is the makeup for my art.  Since I was a child, painting seemed to be something evident. My Mother was a "Still Life" painter and nurtured my enthusiasm for art as a child by taking me to The British Museum, the Tate, the Royal Academy and many other art inspiring venues.  My Mother taught me the primary techniques and furnished my passion by buying me art equipment, books and oil paints.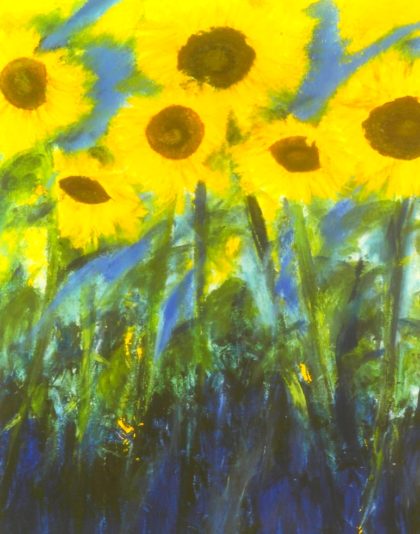 I had a fine arts classical education at school and sold my first figurative painting "Socrates", when I was 16 years old. Since the very first day I set foot in Florence, Italy during my Art studies, I was overwhelmed by its beauty and 14th Century heritage. I then became an adept of the Renaissance period.
I studied Art History at university, where I was intrigued by the political, religious, and social climate, that formed the basis upon which many of the greatest art movements were set. During this time I learnt the skills which enabled me to interpret and to evaluate works of art. Indeed, all forms of Art are subjective, as each individual has her/his own definition of what is beautiful.
During my early 20's whilst travelling through Spain, I found myself on a beach in Almeria, surrounded by the most amazing landscapes. At that moment in time, I decided to put aside my fine arts classical heritage and began to express my passion for painting through chromatic lyricism, emotion, combined with my life experiences; it had to be nature, landscapes and seascapes.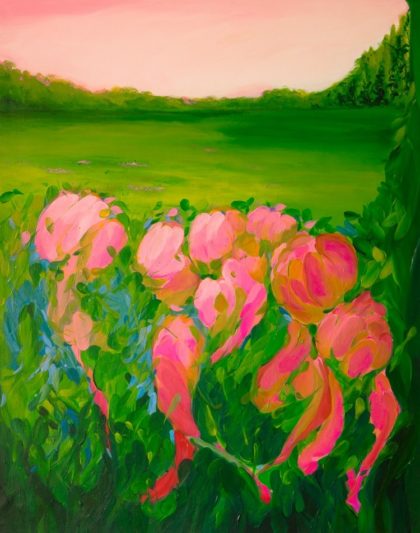 In my early paintings, the eye would encounter very little perspective, just a predominate presence of nature blocking systematically the horizon.  The heart of nature at its finest, abounding and undulating, unviolated by man. As though preciously guarding her innocence, her mystery, dark and intimate. I wanted to create some form of purity.
Nature has always been a source of inspiration for me; there are so many things to explore. I am more likely to paint when I am serene, as I am more in tuned with my inner vision and when I am on a good run and I am feeling in harmony with my soul, I try not to be analytic or self-questioning. The moment I start to question, I get frustrated, I go in different directions and the artwork turns out to be just another piece of decorative art, which is totally useless to me. I prefer to walk away and come back to it another day.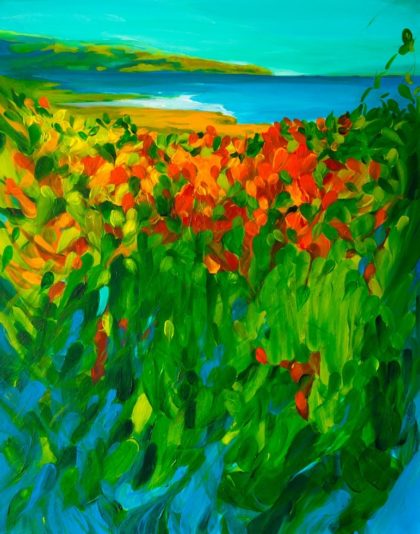 Negativity stifles my creativity. I am not an artist that can only work when tormented or frustrated in order to create something beautiful. I just need serenity.
Once in an interview I was asked whether "nature" was a phase for me. Honestly, I will continue experimenting and exploring as there is much to do. I cannot see myself doing anything else other than what gives me passion and moves me the most.  I can be referred to as being classic and perhaps this is my role, regardless. I try to be honest in my work, I try to listen to my soul.
It has been said that I am colourist and that if I resign myself to a limited palette of colours, it is for familiarity. I beg to differ; it is not a question of me setting myself into a comfort zone. I work with a limited palette of colours which I then develop into a multitude of tones, which I believe are most representative of how I see nature, incorporating, light and movement.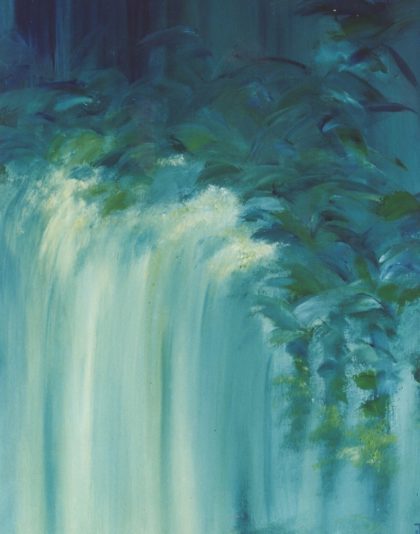 My painting has evolved in recent years, more complex, more movement, more open, deeper horizons; I incorporate the light of the early morning, the light of the afternoon and early sunset. The light has more presence and more importance. And where there was once a limited palette of colours; blue, greens and yellow tones, I have introduced warmer tones.  I have a tendency to meander between the figurative and abstract world. But yet the figuration aspects are more likely to give an impression, rather than a representation of the world as it stands.
I enjoy working with acrylic because it is a spontaneous medium, which corresponds to my personality. It helps me to get my primary ideas down without hesitation. It is also quick to dry and has strong rich colours. But at the same time, much of my secondary work involves several layers of brush and knife strokes in order to achieve texture, layers and movement in my work. I mix the acrylic for textured effect with thickeners such as gloss etc. working and reworking the painting until the subject comes to life.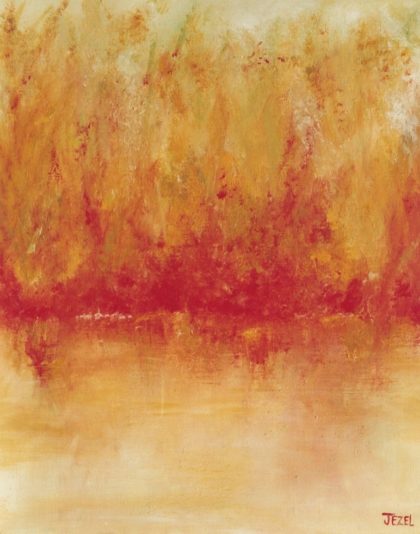 Probably the most figurative part of my work are the different water forms; waterfalls, cascades, lakes. The flowers give the impression to be flowers, as they correspond to my inner vision of nature. The vegetation is suggested and is easily identified, but remains an impression of nature, agitated by the wind and brought to life by the light. My paintings are not structured, they are never ending. They are part of a landscape and not a landscape in its entirety. They are part of a story, but not the end.
I have issues with working with artificial light in the winter months, I cannot see true colours and there is nothing more frustrating than working with artificial light. Sure some winter days are bright when the sky is illuminated by the reflection of the snow.
I have always taken the opportunity to visit art manifestations, churches and monuments of all sorts when travelling. I have no inhibitions or set ideas. I just like to be surprised. I will go forward, step back, look at the colours, the technique and see how it makes me feel. Does it touch me?
The new technologies of social networking and internet are fascinating and there are great tools for driving traffic to the art websites and blogs. We are networking, we are sharing the same passion, we're learning from one another, we're making friends and we are a global family. But the reality of it all is that one has to work at ones art and show it live and that is a fact.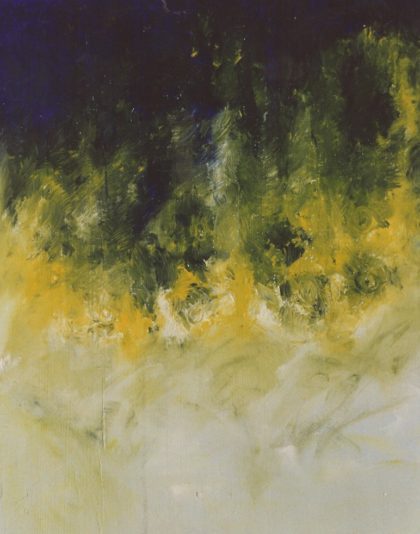 I'm lucky to live in one of the most romantic cities in the world, Paris. But it is also important for me is to go and see current art events and local art manifestations; photos, artwork and paintings, sculptures, meet other artists, talk to the organizers and network. Sometimes I have doubts and I say to myself "I don't have my place here". But then again, we are all different and we all have something to say which is marvellous, as we are individuals, and no two individuals are alike. So when you walk through certain art manifestations, for sure it helps you put things into perspective and then you realize "I have something to say too". So if you've got something to say, just say it!
No one can predict their personal evolution, as it also depends on the obstacles you come across in life. Basically, I follow my instincts and for the moment I'm not thinking about the future, I'm living from day to day, I'm loving it day by day and I am continually exploring my resources.
Someone once asked me what painting meant to me? I could only say that it is not something I could define, that I could only speak in terms of the emotions that it generates within; it signifies, passion, love, and intensity, and at times it gives rise to frustration, as well as fear as I am obliged to work with my inner soul. It is an affair of sincerity and perhaps one of the greatest qualities an artist can have is authenticity.
Peace